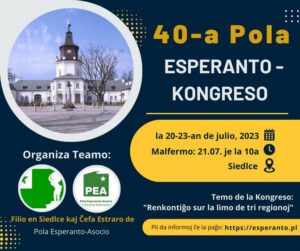 In Siedlce, this year, from July 20th to July 23rd, the 40th Congress of the Polish Esperanto Association took place. It was exceptionally well-attended, and it was further honored by the presence of Zbigniew Antoni Kruszewski, the 90-year-old grandson of Antoni Grabowski, who was granted honorary membership in the PEA.
CEM (Central Esperanto Meeting) was represented by three Esperantists. Event took place in the halls and the building of the library at the Siedlce University of Natural and Humanistic Sciences. As usual, there were interesting lectures, such as the one by Radio Maciej Jaskot's editor, titled "Let's Take Care of Our Language." The connections with Siedlce by Ady Sikorska-Fighiera were presented by Roman Dobrzyński, who also has family ties to the area.
Esperantists in Siedlce celebrated the 115th anniversary of their Esperanto movement together with all the participants. There was communal singing with Halina Różanek and a white and green jubilee cake.
Blind poet Halina Kuropatnicka Salamon from Wrocław read her poems, and Kaŝi and Wojtek Ławnikiewicz performed in both Polish and Esperanto. With local guides, we explored the most important places and monuments in Siedlce, learning about Princess Aleksandra Ogińska, who was important for the city. Not only the city but also the surrounding areas were presented in an interesting way by a history and photography enthusiast and the vice-director of the Regional Museum in Siedlce, Sławomir Kordaczuk.
On the last day, John Magessa from Tanzania spoke in an incredibly interesting way about Aruŝa, the city at the foot of Mount Kilimanjaro, where the next World Esperanto Congress will take place. Świętosław Fortuna, on the other hand, invited everyone to the next PEA congress in Kalisz next year.
Bożena Kocyk
We completed our educational activities in June. This does not mean that CEM's activities have been suspended for the summer. In July, important events took place for the organization and the Esperanto community.
An important event for us was a gathering to celebrate Jola Kieres' 80th birthday – our Esperanto Language Teacher. Jola is a great promoter of the Esperanto language and has been serving as the president of the Esperantists Club at the Municipal Center for Culture for several decades. She was also one of the founders of the Association and currently holds the position of Vice President of CEM's board. Jola leads the Senior Doctor's Club at the Nowy Sącz branch of the District Medical Chamber. She is an active student at SUTW and enthusiastically performs with the theater group "Gwiazdeczki." She travels the world.
We all admire her intellectual and physical activity. Above all, we can say and write that Jola is a wonderful person, a wonderful friend. She has created an incomparable Esperanto family in our Association, which gathered in large numbers (30 people!) at the jubilee meeting. There were wishes, flowers, toasts, and songs. The Polish language intertwined with Esperanto. The several-hour meeting took place in a very joyful and family atmosphere.
We wish our jubilarian many happy years in good health and with the same sense of humor as before. Jolu, may you live for a 100 years!
Additionally, in July, the 40th Polish Esperanto Congress took place in Siedlce. A CEM delegation consisting of Bożena Kocyk, Jolanta Kieres, and Marian Kocyk participated in the congress.
In Turin, Italy, on July 29th, the 108th World Esperanto Congress began and will last until August 5th. A 16-member group from CEM attended the congress. CEM.
Konkurs EDUinspiracje – nominacja
Halina Komar została  nominowana do nagrody EDUinspirator 2015, przyznawanej w konkursie organizowanym przez Fundację Rozwoju Systemu Edukacji, Narodową Agencję Programu Erasmus+.
Ostatecznego wyboru laureatów w każdej kategorii konkursowej dokona Kapituła konkursu. Laureaci tegorocznej edycji konkursu EDUinspirator zostaną ogłoszeni podczas gali, na którą zapraszamy wszystkich nominowanych w konkursie. Gala odbędzie się w Warszawie, 24 listopada 2015 roku.
Oto nominacja:
Karaj Geamikoj, Gesamideanoj- Regina, Andreo, Romeo kaj viaj Proksimuloj, Kunagantoj, Kunlaborantoj…
Triste kaj kompateme mi salutas vin kaj sendas Kondolencajn vortojn pro neatendita, tro frua forpaso de Andrzej Grzębowski. Okazis perdo por la tuta monda Esperantujo, mi eĉ ne povas imagi ESPERANTOTUR sen Andrzej, sen liaj ideoj, laborego, eksperimentaj agoj…
Sed plej multe perdis via Familio kaj al ili mi direktas miajn sincerajn kompatajn vortojn kun deziro, ke vi plu tenu en la Familia Rondo tiun ĉi kreaĵon de Andrzej, kiu kompilas diversflankan agadon de E-organizaĵoj en Bydgoszcz…
Andrzej restos en mia koro, ĉar Li estis la unua, kiu donis al mi helpan manon dum la plej malfacila periodo de mia vivo, dum riunigita mia vivo familia, profesia, socia – tiam dum t.n. Hejma Milito en Pollando, oni forprenis de mi la tuton… Amikecan manon kun ebleco havi ĉiutagan panon, mi ricevis de Andrzej, kiu ekproponis al mi malfermi la Filion de Esperantotur en Nowy Sącz. Dum kelkaj penigaj jaroj mi devis nokte veturadi 600 km unudirekte por preni ordonojn, dokumentojn, klarigojn kts. Mia vivo duoniĝis al malproksimaj urboj, sed mi havis en Bydgoszcz Amikojn, tie kleriĝis kiel E-instruisto, tie gajnis spertojn, kiuj dum libereca tempo en 1989j. permesis al mi fondi mian propran entreprenon "KORLANDO". Tio ĉio danke al Andrzej kaj (jam poste) eksterlandaj esperantistoj…
Mi estas kredanta, ke Lia Animo sentas mian dankemon kaj mi tre badaŭras, ke dum multaj jaroj ni ne parolis pri tiama tempo, ke Li probable eĉ ne sciis, kiom mi estas dankema kaj kompletŝulda al Li! Ĝuste tiam ni devas ofte montri niajn sentojn al geamikoj, ĝis kiam ne estos jam tro malfrue… Ripozu en Paco, Andrzej – ni multaj memoros Vin longe…
Amike, plenkore – Halina Komar
Al la Kondolencoj aliĝas novsonĉaj esperantistoj kaj la aktivularo de CEM.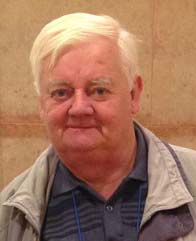 Smutno  powiedzieć ale dobiegła kresu ostatnia ziemska wędrówka Andrzeja Grzębowskiego – człowieka, którego pasją było poznawanie świata i esperanto. Bez wątpienia to dzięki niemu tysiące ludzi , a do tej grupy i ja się zaliczam, mogło podróżować po świecie także w czasach , kiedy wszelkie wyjazdy na zachód były delikatnie mówiąc niełatwe. Dzięki esperanckim koneksjom Andrzeja , za niewielkie pieniądze , choć w skromnych warunkach wraz z Esperantoturem można było poznawać Europę i świat. Esperanto – międzynarodowy język to było nie tylko hobby Andrzeja, to był sposób na życie , którym zaraził nie tylko swoich najbliższych ale tysiące osób dając im możliwość prostego, wspaniałego kontaktu z innymi ludźmi. To z Jego inspiracji powstała w Bydgoszczy międzynarodowa szkoła kształcąca młodzież z wielu krajów świata w zakresie turystycznej obsługi . To On był pomysłodawcą Esperanckich Dni Bydgoszczy , które były pomocne szerokiej promocji miasta – temu zresztą służyły także rozmaite wydawnictwa rozsyłane przez bydgoskich esperantystów na cały świat. Andrzej Grzębowski był osobą życzliwą , pomagał bezinteresownie – sam tego doświadczyłem – wielu osobom i tym sobie znanym i tym , którzy byli w potrzebie. Teraz wędruje po niebiańskich szlakach – tam jeszcze przecież nie był, żal , że już tam jest.
Walentyna Fiszer-Dolińska
Krzysztof Śliwiński